Life Jacket Servicing Available in Chichester Harbour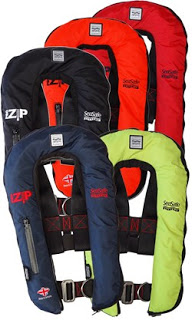 I strongly believe in wearing a life jacket whilst out at sea and thought I would share some advice on why it is so important in the unpredictable conditions of the sea. It could buy you time & save your life. Being a keen yacht racer I have been out in pretty scary conditions and always leave with my life jacket on!
First of all, you need to make sure that life jackets are readily available and accessible on board. RNLI research has shown that out of 98% of people carrying a life jacket only 49% wear them all the time!
If you are buying a new life jacket, make sure you check the fit. It won't be as effective if it is not snug around your shoulders as it won't keep your head afloat. Whilst buying a life jacket, you should look at its Newton rating. The Newton rating is relative to the weight of the intended user.
Another interesting fact is that 1/3 of life jackets that the RNLI's sea safety volunteers have seen would fail to work due to poor maintenance. That is why Thornham Marina have teamed up with Seasafe to provide Boat Owners with a easy life Jacket Servicing Station. It only costs £9.95 inc VAT per life jacket!
All you have to do is…
Pop into our office with your life jacket, fill out a short form with your name, address & phone number.
We will then send your life jacket to Seasafe where they will service your jacket in their factory.
Seasafe will then call you to give you some general information about your life jacket as well as things you may not realise need replacing or fixing.
Seasafe will then return your life jacket to us for you to collect within 14 workings days.
Simples!
If you would like more information about Seasafe & the services they provide check out their website www.seasafe.co.uk
Sign Up To Our Website For Exclusive Offers, Tips & Advice! Visit www.thornhammarina.com and fill our the form on the right hand side.
---