Making The Most of Chichester Harbour
Thornham Marina Guide to discovering Chichester Harbour by boat
There's plenty of special places to reach by boat from Thornham Marina by cruising all the creeks of Chichester Harbour. There's something very special about exploring by boat rather than by car, where you can row ashore for a glorious walk or visit the local hostelry in this amazing Area of Outstanding Natural Beauty.
When boaters enter Chichester Harbour they find many charts only show a few marked anchorages such as East Head, which is often packed out on a hot summers day. However, there are plenty more places to explore which can make a great adventure, especially if you have a tender, kayak or sailing dinghy in tow.
Here's our Thornham Marina Guide to exploring Chichester Harbour's creeks and anchorages.
Itchenor
Heading up the Itchenor Channel, you can pick up a visitor mooring or beyond the Itchenor Sailing Club, you can berth on the visitor pontoons. Here you can enjoy the beautiful tree-lined shores and stunning houses, and watch the action as the classic Itchenor Sunbeams and X Boats arrive back at their moorings. Head ashore and take the footpath from Itchenor around the shore to East. Stop for a drink or book in for a meal at The Ship.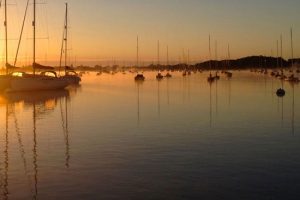 Dell Quay
Beyond Chichester Yacht Basin the channel leads up to Dell Quay, once a busy port serving Chichester. If your boat can take the ground it's fun to head up there on an incoming tide to anchor to the side of the channel. Keep an eye on the tidal curve and be sure to head off in good time before the tide goes out, or you can dry out if you wish and chill out. There's excellent food at the Crown and Anchor which overlooks the harbour.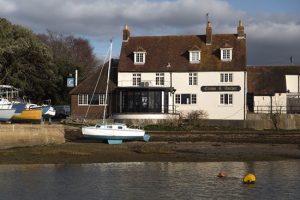 Birdham
Beyond Itchenor is the delightful Birdham Pool and in easy reach when cruising from Thornham Marina. It's one of the UK's earliest marinas. Enter via a lockgate with opens approximately three hours either side of high water. Berthing is often between 'old style' mooring posts, rather than modern finger pontoons, although there are some pontoons and a hammerhead pontoon. Book ahead to stay the night there. The friendly lockgate staff are often happy to take a line.
Birdham is one of the harbour's most snug and sheltered marinas, with delightful walks from the beautiful Pool towards Itchenor and the beach at East Head or towards Dell Quay. Chichester Yacht Club welcomes visiting yachtsmen for dinner. Press on further into the wide open Chichester Lake where it's possible to anchor on the edge of the channel in the Lake, although watch out for dinghies racing from Chichester Yacht Club.
Bosham Channel & Quay
Coming back down the Itchenor Channel take a right turn northwards up the Bosham Channel. You can pick up a free mooring for lunch and watch out for the Cobnor Activities Centre Trust boats and kayaks teaching schools and youth groups how to sail. Be ready to slip your lines if the mooring owner comes back.
Or head up to Bosham Quay and moor up here. It's best to approach on a rising tide and use plenty of fenders against the old Quay. The village and church are worth exploring and so too is the Anchor Bleu pub and charming tea room in the high street.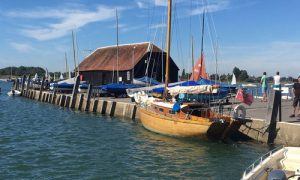 Langstone
Heading west towards Langstone Bridge, if your boat can take the ground, anchor on gravelly mud between Conigar Point and Langstone, for views of Warblington Church the Castle and the stunning Langstone Mill.
Both the Royal Oak and The Ship Inn can be reached by boat on a spring tide for a quick pint before the tides goes down. Or anchor off and tender ashore for a more relaxed visit and food. Watch out for the Langstone rowing gigs, which are often out and rowing hard up towards Marker post and beyond.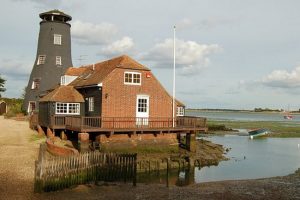 Mengham Rythe
Possibly the most hidden haven, Tournerbury Pool, can be found at the very top of the Creek beyond Mengham Sailing Club. Sitting in a heavily wooded site, the pool is part of the former Tornerbury Fort and thought to be a Celtic settlement responsible for salt production. Best approached on an incoming tide, keep a wary eye on your depth gauge as it can get very shallow! This magical little pool is brought to life in the wonderful historical novel Dick Burgess of Bosham by Keith Vignoles.
East Head
Although prone to being busy at weekends and during holidays, East Head remains a special anchorage. On a quiet weekday evening watch the glorious sunset over Portsmouth's Emirates Tower and take in the panoramic views across the South Downs, Goodwood and Chichester Cathedral.
Pilsey Island
If you are short of time or don't wish to go too far, then closest to cruise to/from Thornham Marina is the peace and serenity of Thorney Channel. Sheltered by the beautiful Pilsey Island and ancient broken walkway and mudflats extending from Chidham. You can anchor safely overnight between the 'goal post' channel markers and to the south of the TISC mooring buoys.
Emsworth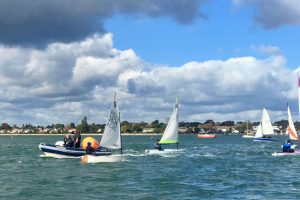 For a bigger day out from Thornham Marina, on the west side of the Harbour up the Emsworth Channel, you can anchor overnight on either side of the creek between Mill Rythe and Sweare Deep. Sit there long enough on a quiet evening and you might be lucky to have a visit from the harbour seals – or watch them sunbathing on the mud at half tide!
Beyond Marker the Emsworth channel splits at the NE Hayling port hand marker. Heading to Emsworth you can pick up a space on the visitor pontoon off Fowley Island. Tender ashore to the Emsworth Quay, where fabulous pubs and restaurants in South Street and the village square await. Alternatively, the Chichester Harbour Master offers a launch service 2 hours either side of HW on weekends and Bank Holidays from 0830 to 1700 from Easter to end September. Call Channel 14 or 07864 915247.
---